The Rice Student Health Services Office provides preventive and outpatient clinical care for the students of Rice University. Student Health is located on-campus and is dedicated to meeting the unique needs of undergraduate and graduate students, with an emphasis on prevention. We see all students regardless of their insurance. Appointments are included in student fees. Additional charges for labs, vaccines, etc. may be paid via cash or credit card.
FLU SHOT REQUIREMENT 2020- The Influenza vaccine is REQUIRED this year. The due date is October 30. Students may choose to get the vaccine at home, get the vaccine via an appointment at SHS, or obtain the vaccine with Walgreens on campus at the library Aug 31, Sept 1, Sept 3, Sept 8, Sept 14, or Sept 16. Walgreens will accept your insurance card and process according to your company. Students should submit the proof of vaccine to SHS between Sept 1 and Oct 30 with student ID written on the page. TO SUBMIT, PLEASE UPLOAD TO OUR SECURE BOX - SEE THE BOTTOM RIGHT PANEL "UPLOAD DOCUMENTS" BELOW. Please do not email medical records. You may also fax to 713-348-5427. Students who wish to waive the vaccine may do so by utilizing the state of Texas vaccine waiver form or submitting a letter from a licensed US physician regarding medical contraindication.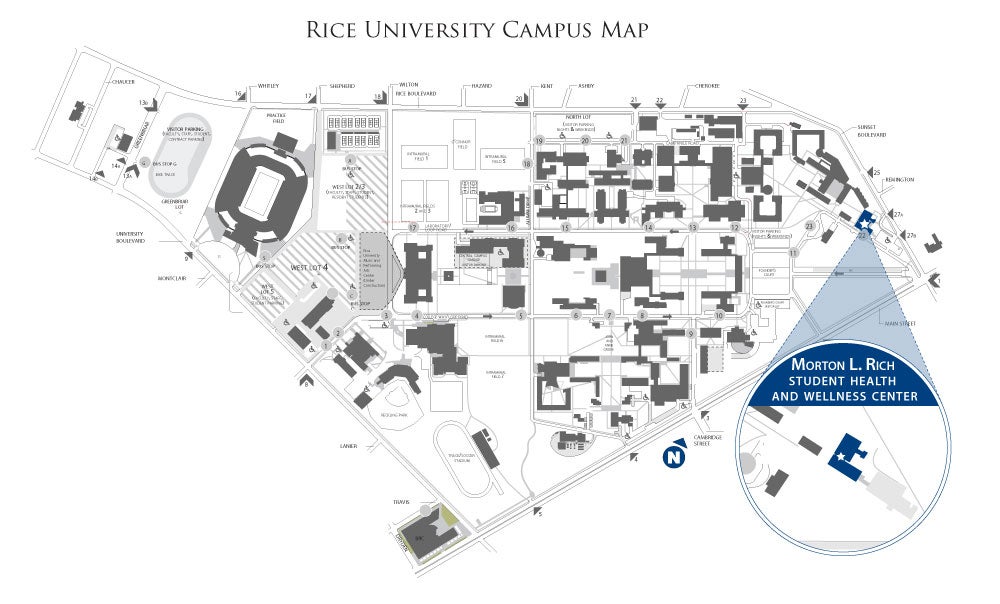 Morton L. Rich Health and Wellness Center Map - We are located in the Morton L. Rich Student Health and Wellness Center located next to the Brown Magister's House off Entrance 27b. The building is indicated as building #30 on the printable campus map. Student parking is available at Entrance 27.
OFFICE HOURS
Fall and Spring Semesters:
Monday - Friday
8:00 a.m. - 5:00 p.m.
closed for lunch 12:00-12:30 daily.
Summer:
Monday - Wednesday
9:00 a.m. - 3:00 p.m.
*during the summer, the receptionist is available Monday through Friday for phone calls.
Closed Weekends
CONTACT

Phone: (713) 348-4966
Fax: (713) 348-5427
Email: hlsv@rice.edu
Note: This email address is for general administrative purposes only. It may not be used to ask a medical questions, set up an appointment, or to request advice.