Rice Student Health Services provides preventive and outpatient clinical care for the students of Rice University. Student Health is located on-campus and is dedicated to meeting the unique needs of undergraduate and graduate students, with an emphasis on prevention. We see all students regardless of their insurance. Appointments are included in student fees. Additional charges for labs, vaccines, etc. may be paid via cash or credit card.
Students may be seen in person at student health or via televisit. Since SHS is an on campus service, students coming in person must follow Rice University testing guidelines which are
· Fully vaccinated people coming to campus, and coming into routine contact with others, must schedule a test once per week.
· Unvaccinated people who come to campus, or those who have not answered or updated their status in the vaccine survey to indicate they are fully vaccinated, must test twice per week, regardless of whether they come into contact with other people.
AFTER HOURS EMERGENCY? - Call 6000 on campus for 24/7 student EMS. Call 911 if off campus.
COVID Vaccines - There are many locations offering vaccines in Houston. You can use the site www.vaccines.gov to find a location for a FREE COVID VACCINE. Many pharmacies including CVS, Walgreens and HEB have vaccines available.
COVID Testing - If you need PCR testing for follow up or symptoms, Rice has symptomatic testing services. You must fill out a Health Reporting form on the Rice website to get a symptomatic test. Crisis Management runs the testing program.
COVID Supplies - SHS and EMS have distributed cold packs, thermometers and isolation handouts for students. They are at each college coordinator's office.
FLU Vaccines - Offered on campus by Walgreens. Bring your insurance card and most insurance companies cover the full cost. No copay. Cambridge Office Building first floor. Last clinic is October 13.
Upload your vaccine documentation to https://veoci.com/v/p/dashboard/j6ce8duchj
8/31 - 7-3

9/1 - 7-3

9/2 - 9-5

9/7 - 9-5

9/8 - 9-5

9/9 - 10-6

9/28 - 10-4
10/13 - 9-5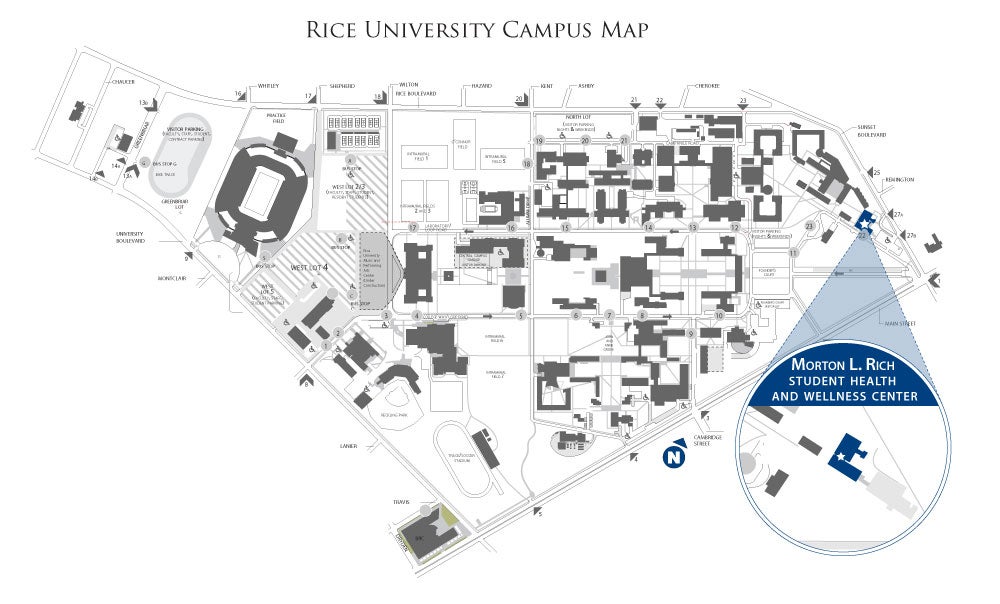 Morton L. Rich Health and Wellness Center Map - We are located in the Morton L. Rich Student Health and Wellness Center located next to the Brown Magister's House off Entrance 27b. The building is indicated as building #30 on the printable campus map. Student parking is available at Entrance 27.
OFFICE HOURS
Fall and Spring Semesters:
Monday - Friday
8:00 a.m. - 5:00 p.m.
closed for lunch 12:00-12:30 daily.
Summer:
Monday - Wednesday
9:00 a.m. - 3:00 p.m.
*during the summer, the receptionist is available Monday through Friday for phone calls.
Closed Weekends
CONTACT

Phone: (713) 348-4966
Fax: (713) 348-5427
Email: hlsv@rice.edu
Note: This email address is for general administrative purposes only. It may not be used to ask a medical questions, set up an appointment, or to request advice.